https://www.youtube.com/watch?v=ZX8_sD3lNhw
Didn't qualify to compete in Worlds 18?
You can still play all the way to Championship Night!
The ultimate Luck of the Draw cornhole event…
all week in the Tailgator Zone at Worlds.
This is the tournament for all you backyard, social, and tailgating players to compete in at Worlds.
LEARN MORE
WHAT
The ACO Tailgator Championships is a series of 8 "Luck of the Draw" cornhole tournaments daily.
These are blind draw double-elimination tournaments are played as qualifiers throughout the week at ACO Worlds. The top two winning team from each qualifying tournament will be entered into the two- 32 team Championship brackets on Saturday. The final game between the two brackets will be played on Championship Saturday, Center Court at 5:30PM!
Qualifiers
8 qualifiers per day – Tuesday, Wednesday, Thursday, and Friday with 2 teams from each qualifier advancing to compete in the Championship Bracket on Saturday.
Qualifier Tournament Structure:

Luck of the Draw
Double elimination
Single game in winners and single game in losers.

Qualifier Entry Pricing:

$10 entry per player for each tournament on Tuesday and Wednesday
$20 entry for each tournament Thursday and Friday

Qualifier Participants: Maximum of 128 players per or 64 total teams per qualifier
Qualifier Prizes:

Each qualifier will use 4 sets of 8 bags as prizes for the top 4 teams in their qualifier.
Each player from these top 4 teams will receive one set of 4 bags from those used in the tournament.
These teams will use these same bags to compete Saturday in the Championship Bracket representing the bag company that sponsored their qualifier.
Our bag partners are able to add additional prizes to their qualifier if they desire.
Championship Saturday
Saturday, July 29, 2023 (64 Teams)
Championships Prizes:

Bourbon Barrel Trophies (2)
Tailgator Jerseys (2)
Championships Purse: $5,000.00 Guaranteed

Format:

1st and 2nd place teams from each qualifier advancing to Saturday.
64 Qualifying teams
Two Brackets of 32 teams (32 in red room & 32 in blue room)
Double Elimination
1st place winners from the Blue room and Red room will be featured downstairs on Center Court at 5:30 Playing for the Bourbon Barrel Head Trophies and the Tailgator Prize Jerseys in a Best 2 of 3 Match!
WHERE
Held in the Tailgator Zone, the hub of activity at Worlds.
The Tailgator Zone is made up of 16 courts per room, a Red Room and a Blue Room on the 2nd floor with Vendor Booths lining every inch! There's always plenty of beer, and even more laughs on the Tailgator courts!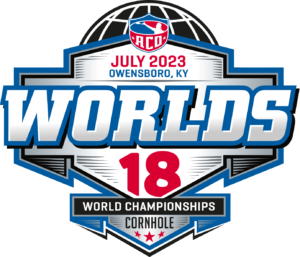 WHEN
Tuesday July 25th – Saturday, July 29th
ACO Worlds 18 in Owensboro, Kentucky
Walk Up Only / Limited Participation
Tuesday & Wednesday: $10 / player
Thursday & Friday: $20 / player
Tailgator Qualifiers are held at eight times each day:
Blue Room:                           Red Room:
10:30AM                                9:00AM
1:00PM                                  12:00PM
4:30PM                                  3:00PM
7:30PM                                  6:00PM
Championship Saturday
Saturday July 29, 2023
5:30 PM estimated start time
PRIZES
Qualifiers:
The top two teams from each qualifier tournament will each win a set of 4 tournament-used bags
Championship Saturday:
Championships Prizes:

Bourbon Barrel Trophies (2)
Tailgator Jerseys (2)
Championships Purse: $5,000.00 Guaranteed

Payouts:

Blue Room

First Place- $500 Per Team
Second Place- $300 Per Team
Third Place- $200 Per Team
Fourth Place- $100 Per Team
Remaining Qualifiers- $50 Per Team

Red Room

First Place- $500 Per Team
Second Place- $300 Per Team
Third Place- $200 Per Team
Fourth Place- $100 Per Team
Remaining Qualifiers- $50 Per Team