Dale Tanner wins the ACO Certified Official shootout. Keith Blair 2nd, and Jeremiah Ellis 3rd.
Slyder Cup (Conference) winners: Kentuckiana Team with Keith Blair, Eric Zocklein, Matt Guy, Bret Guy, Terry Mathis
Womens Player of the Season: Paula Stevens
Doubles Team of the Season: Guy Nation – Matt Guy / Bret Guy
Matt Guy wins ACO Player of the Season. Playoff match against Matt Guy, Jeff Link and Eric Zocklein.
ACO Coed Doubles World Champions: Team Williams / Hurt from Virginia
ACO Juniors World Champion: Austin Cameron from Virginia
ACO Womens World Champion: Paula Stevens from Virginia
ACO Seniors World Champion: Don Bailey from Ohio
ACO Doubles World Champions: King of Cornhole 13 Ryan Windsor (IL), and Tanner Halbert (FL)
ACO Singles World Champion, "King of Cornhole 14": Matt Guy, Kentucky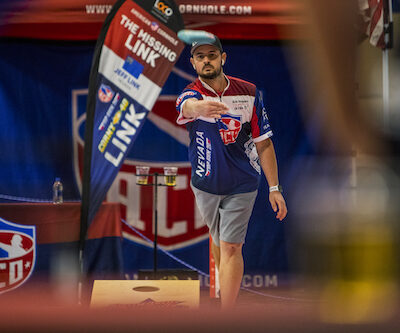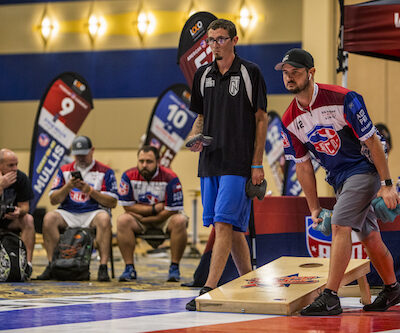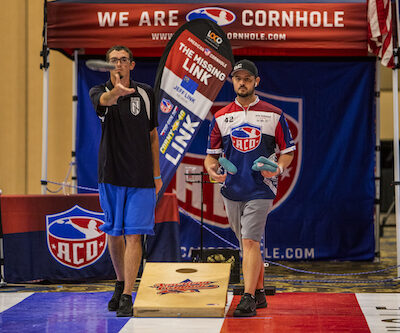 The Best Players in the World. The Biggest Cornhole Party.
Welcome to Vegas.
ACO Worlds Divisions are open to ACO Pros and any player that qualifies by participating in a minimum number of ACO Majors or other tournaments during the season leading up to Worlds.
ACO Players who qualify must have purchased their Golden Ticket to compete at Worlds.
REGISTRATION CLOSED
July 2-6, 2019
Westgate Las Vegas Resort & Casino
July 6 Final Championship Night
TopGolf Las Vegas
ACO Worlds is a five-day event for players, spectators and the whole family, including fun Game Challenges, vendors, player meet & greets and more! It's always free for spectators.
DAILY SCHEDULE
Watch all the REPLAY action right here at AmericanCornhole.com.
Other viewing options:
ACO Facebook Page
ACO YouTube Channel
ALSO visit WeAreCornhole.com to catch shows and specials on the ACO Digital Network, produced from ACO Worlds footage. Playable on your favorite device.
DOWNLOAD THE WORLDS 14 PROGRAM AND HOLE MAGAZINE
Here are the games you can watch.
These are ACO World Divisions for Members holding a Golden Ticket, and include man ACO Pro players (the top 80 in the world)
World Singles
World Doubles
Women's
Seniors
Juniors
CoEd Doubles
Slyder Cup
Certified Official Shootout
Wanna to throw some bags too?
These are the games you can play at Worlds, with no qualifying needed. Most of these pay-to-play events have registration available the same day, but do have maximum entry limits.
Big Blind Draw (Open Division)
Luck of the Draw matches
World Game Challenge
Open Courts (pick-up games)
Host Hotel and main event location
3000 Paradise Road, Las Vegas, Nevada 89109
World Championship Night (Saturday)
4627 Koval Ln, Las Vegas, NV 89109
Worlds Schedule of Events
All start times may be adjusted up to one-half hour due to tournament play times.
TUESDAY, JULY 27
WEDNESDAY, JULY 28
THURSDAY, JULY 29
FRIDAY, JULY 30
SATURDAY, JULY 31
7:00 AM
8:00 AM
------ Doors Open ------
------ Doors Open ------
------ Doors Open ------
------ Doors Open ------
9:00 AM
------ Doors Open ------
Womens Doubles
Seniors Doubles
World Singles RPI
Doubles Championship Bracket
LifeTimer Championship Tournament
10:00 AM
Crew Cup Blind Draw
Doubles Tier 4
10:30AM - Doubles Tier 3
11:00 AM
Doubles Tier 2
11:30AM - Opening Ceremony / National Anthem / First Pitch
11:45AM – ACO LifeTimer Championship Match
12:00 PM
12:30PM – ACO Seniors Doubles Championship Match
1:00 PM
Tailgator
Womens Singles
Seniors Singles
Tailgator
Tailgator
Tailgator
1:00PM - Tailgator World Championships
1:00PM - PipFall Blind Draw
1:15PM – ACO Womens Doubles Championship Match
2:00 PM
Slyder Cup - Open Division
Slyder Cup - Non-PRO Division
World Doubles RPI
3:00 PM
Juniors Singles
Singles Championship Bracket
3:00PM – ACO World Coed Championship Match
3:45PM - ACO World Juniors Championship Match
4:00 PM
4:55PM - ACO World Seniors Championship Match
5:00 PM
Player of the Season Playoffs
Tailgator
Player of the Season Playoffs
Tailgator
Tailgator
Tailgator
5:45PM - ACO World Womens Championship Match
6:00 PM
Coed Doubles
Singles Tier 4
6:30PM - Singles Tier 3
ACO Certified Official Shootout
6:30PM – Awards Ceremony
7:00 PM
World Big Blind Draw Championship
7:30PM - Open Blind Draw
Singles Tier 2
7:00PM - ACO World Doubles Championship Match
7:45PM – ACO World Singles – Semi Final #1
8:00 PM
8:15PM – ACO World Singles – Semi Final #2
9:00 PM
9:00PM – ACO World Singles – Championship Match
9:15PM - Crowning of the new King or Queen of Cornhole
10:00 PM
------ Doors Close ------
------ Doors Close ------
------ Doors Close ------
------ Doors Close ------
AFTER PARTY IN THE TAILGATE TENT.
AFTER THE AFTER PARTY DOWNTOWN BRADENTON.
Games you'll see played at Worlds
Blind Draws: Open to the public. All entrants are paired up at random with another player to be their Doubles partner. These occur throughout the World Championships. Ask at the registration tent.
Big Blind Draw: This is the main Big Blind Draw event at Worlds. Two divisions are played: Open Division, which is open to the public, and World Championship Division, which is only open to ACO players ranked 1-128 in the Big Blind Draw Standings.
ACO Slyder Cup: A tournament based on teams of 5 players. Two divisions are played: World Draft Division, which is based on World Singles Standings for eligibility, and World Conference Division, which is based on World Conference Standings for eligibility.
ACO Certified Official Shootout: This is a chance for all of the ACO Certified Officials (CO's) to find out who is best! Open only to ACO CO's.
ACO Coed Doubles: A doubles division consisting of one male and one female player per team.
ACO World Singles: The ACO division which crowns the King of Cornhole at the World Championship night.
ACO Womens: The ACO division to crown the top womens player in the world.
ACO Seniors: The ACO division to crown the top seniors player in the world.
ACO Juniors: The ACO division to crown the top juniors player in the world.
ACO Player of the Season Playoff: The Player of the Season is the Singles player with the top ranked standing at the end of the season. In the event that two or more players are tied in standings at the end of the ACO season, a playoff match is held to find the Player of the Season.
Single Elimination: The winner can move on in the tournament. The loser is finished.
Double Elimination: Same as above, but the loser gets another chance by moving into the Loser's Bracket. Most games at Worlds are Double Elimination.
Best of 2 of 3: Players play 3 matches, and whoever wins two of the games is the winner.
Pool Play Bracket: A tournament format that breaks up competitors into smaller round robin brackets. The top finishers of each bracket advance to a Final to determine final standings. This is ideal when there are many players in a tournament.
Mini Pool Play Brackets: Small pool play brackets that are used to advance top finishers to the Champion Bracket, or advance next finishers to the Tier Pool Play Brackets. An example of this is the RPI (Ranked Players Invitational).
Tier Pool Play Brackets: These brackets are used to find the final two players who will advance to the Tier Championship.
RPI (Ranked Players Invitational): A mini pool play bracket to advance Singles players to either the Singles Championship Bracket, or the Singles Tier (2-4) Championship Brackets.
Season 14   July 2019   
Las Vegas, NV
ACO World Singles Championships
Top four (4) players World Singles:
Matt Guy – KY
Matt Stout – VA
Ryan Windsor – IL
Jeff Link – NV
Top four (4) players in Tier 2 World Singles:
Matt Guy
Jeff Link
Kaleb Hurt
Erick Davis
Top four (4) players in Tier 3 World Singles:
Tyler Parent
Matt Stout
Maggie Geiger
Wayne Rau
ACO World Doubles Championships
Top four (4) teams in World Doubles:
Halbert (FL) / Windsor (IL)
Guy (KY) / Guy (KY)
Barnett / Glover
Blair / Zocklein
Top four (4) teams in Tier 2 World Doubles:
Chesnut / Wolters
Clark / Tanner
Pryor / Parent
Box / Cordell
Slyder Cup – World Draft
Top four (4) teams
Halbert / Kase / Clemmer / Tidwell / Burns
Davis / Glover / Arrington / Cordell / Hammett
Mullis / Hurt / Easley / Stevens / KnoxSnellings / Johnson / Wolters / Armstrong / Schumacher
Slyder Cup – Conference
Top four (4) teams
Kentuckiana: Blair / Zocklein / Guy / Guy / Mathis
SVC: Williams / Hurt / Hurt / Cameron / Cameron
Davis Nation: Halbert / West / Davis / Davis / Davis
Crew Cup Challenge
Top four (4) teams
Reynolds
Nine Inch Males
Silent and Deadly
Courtesy Flush
ACO World Juniors Championship
Top four (4) players:
–
–
–
–
ACO World Womens Championship
Top four (4) players
Paula Stevens
Karen English
Alexis Hammett
Tammy Williams
ACO World Seniors Championship
Top four (4) players
Don Bailey
Jr Williams
Allen Wingham
Mike Arrington, Sr
Season 13   July 2018   
Montgomery, AL
ACO World Singles Championships
Top four (4) players World Singles:
Ryan Windsor – IL
Tanner Halbert – FL
Matt Guy – KY
Bret Guy – KY
Top four (4) players in Tier 2 World Singles:
Rob Guthary – SC
Johnny Lang – KY
Derrick Mentzer – PA
Ethan Morgan – IL
Top four (4) players in Tier 3 World Singles:
Matthew Morton – VA
Jake Childs – FL
Billy Young – GA
Jeremy Jacobs – IL
Top four (4) players in Tier 4 World Singles:
Brian Bailey – KY
Brianna Crosco – MD
Bobby Kimrey – MO
Todd Crosco – MD
ACO World Doubles Championships
Top four (4) teams in World Doubles:
Guy (KY) / Guy (KY)
Sutton (MO) / Windsor (IL)
Corprew (NC) / Uransky (VA)
Graham (NC) / Holland (NC)
Top four (4) teams in Tier 2 World Doubles:
Cromer (MD) / Mallonee (MD)
Cameron (VA) / Cameron (VA)
Cross (IN) / Dawson (IN)
Stevens (IL) / Webb (IL)
Top four (4) teams in Tier 3 World Doubles:
Gregory (TN) / Smothers (KY)
Brandle (KY) / Gregory (KY)
Priest (IN) / Quilter (IN)
Perkins (MI) / Singleton (MI)
Slyder Cup – Social
Top four (4) teams
Toss 21
Kzoo Cornhole
Free Money
Skooterz
Slyder Cup – Pro
Top four (4) teams
Chair City
Beer Belly Bags
Here For Beer
FL-VA Line
ACO World Juniors Championship
Top four (4) players:
Michael Avery (NC)
Erick Davis (NC)
Kenzie Beach (VA)
CJ Slugantz (KY)
ACO World Womens Championship
Top four (4) players
Courtney Coy (IL)
Samantha Finley (FL)
Kaylee Hunter (NC)
Katherine Kennedy (VA)
ACO World Seniors Championship
Top four (4) players
Daymon Dennis (KY)
Chuckie Love (OH)
Mike Schaffer (OH)
Philip Haydon (KY)
ACO Certified Official Challenge
Top four (4) players
Dale Tanner
Keith Blair
Jeremiah Ellis
Tanner Halbert
Season 12   July 2017   
Owensboro, KY
ACO World Singles Championships
Top four (4) players:
Jamie "KING" Graham – North Carolina 
Ryan Windsor – Illinois
Matt Guy – Kentucky
Erick Davis  – North Carolina 
Top four (4) players in Tier 2 World Singles:
Danny Seals – Kentucky
Ronnie Hileman – Virgiinia
Brad Tucker – Kentucky
Steven Bernacet – Indiana
Top four (4) players in Tier 3 World Singles:
Branden Davis – North Carolina
Paula Stevens – Virginia
Eddie Justus – West Virginia
Ryan Johnson – Florida
Top four (4) players in Tier 4 World Singles:
Scott Phillips – Oregon
Tanner Dinges – Virginia
Katie Beason – Florida
Mike Ferreira – Massachusetts 
ACO World Doubles Championships
Top four (4) teams:
Herrara (IL) / Windsor (IL)


Avery (NC) / Avery (NC)

Corley (FL) / Poythress (NC)

Zocklein (KY) / Blair (KY)
Top four (4) teams in Tier 2 World Doubles:
Camba (VA) / Stout (VA)

Justus (WV) / Justus (WV)

Tate (VA) / Cecil (VA)

Jacobson (VA) / Smith (VA)
Top four (4) teams in Tier 3 World Doubles:
Vonch (IN) / Seals (KY)

Peterson (OH) / Mayes (OH)

Villareal (IN) / Ellis (IN)

Quilter (IN) / Priest (IN)
Top four (4) teams in Tier 4 World Doubles:
Stelter (IL) / Bernacet (IN)

Kase (KY) / English (KY) 

Rager (MI) / Rager (MI)

Webber (NC) / Byrd (NC)
ACO World Womens Championship
Top four (4) players
Christine Papcke – Ohio
Kamryn Belvin – Virginia
Rosie Streker – Florida
Paula Stevens – Virginia
ACO World Seniors Championship
Top four (4) players:
Daymon Dennis
Chuckie Love
Mike Schaffer
Philip Haydon
ACO World Juniors Championship
Top four (4) players:
Erick Davis – North Carolina
Duncan Clemmer – North Carolina
Bobby Morris, JR. – North Carolina
Kenzie Beach – Virginia