NOV 29-30, 2019

ACO South Bend Major


South Bend, IN
> REGISTER TO PLAY
---
DEC 6-7, 2019

ACO Rock Hill Major


Rock Hill, SC
> REGISTER TO PLAY
---
DEC 6-7, 2019

ACO Christmas Classic Major


Dodge City, KS
> REGISTER TO PLAY
---
JAN 3-4, 2020

ACO Owensboro Major


Owensboro, KY
> REGISTER TO PLAY
---
JAN 10-11, 2020

ACO North Platte Major


North Platte, NE
> REGISTER TO PLAY
---
JAN 17-18, 2020

ACO Knoxville Major


Knoxville, TN
> REGISTER TO PLAY
---
JAN 24-25, 2020

ACO Florida Major


Haines City, FL
> REGISTER TO PLAY
Not an American Cornhole Member?
BECOME AN ACO MEMBER
NO THANKS, I'D RATHER PLAY FREE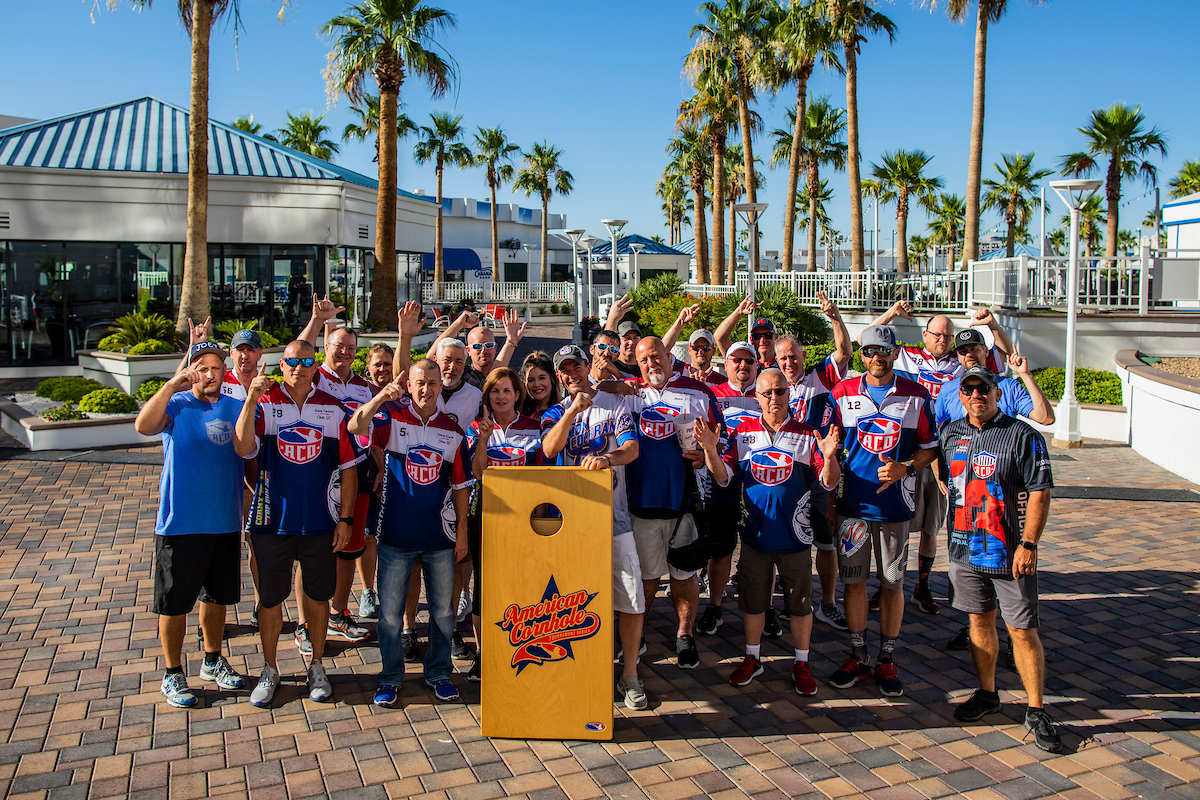 The American Cornhole Organization is the worldwide governing body for the sport of cornhole. Find cornhole rules, tournaments, cornhole leagues, rankings, cornhole boards, bags and gear right here!
The World's First Cornhole Sports Network.
Watch anytime, anywhere, on almost any device.
How to Watch
ACO PLAYERS MOBILE SITE
Frank & Fin run through the features of the ACO Player's Mobile Site
WORLD RANKINGS, SEASON 15
To be published October, 2019
ACO Doubles World Champions: King of Cornhole 13 Ryan Windsor (IL), and Tanner Halbert (FL)
ACO Singles World Champion, "King of Cornhole 14": Matt Guy, Kentucky
ACO Coed Doubles World Champions: Team Williams / Hurt from Virginia
ACO Juniors World Champion: Austin Cameron from Virginia
ACO Womens World Champion: Paula Stevens from Virginia
ACO Seniors World Champion: Don Bailey from Ohio
Matt Guy wins ACO Player of the Season. Playoff match against Matt Guy, Jeff Link and Eric Zocklein.
ACO Announces Womens Player of the Season: Paula Stevens, Doubles Team of the Season: Guy Nation – Matt Guy / Bret Guy
ACO Worlds 14: Dale Tanner wins the ACO Certified Official shootout. Keith Blair 2nd, and Jeremiah Ellis 3rd.
ACO Worlds 14: Slyder Cup (Conference) winners: Kentuckiana Team with Keith Blair, Eric Zocklein, Matt Guy, Bret Guy, Terry Mathis
Download a free copy of ACO Worlds 14 Program and HOLE Magazine – the magazine for Cornhole Players and Enthusiasts
GET IT FREE
Become an ACO Certified Official!
If your heart's in the game, then get involved as an American Cornhole Organization Certified Official!
APPLY NOW

The TACO – Talking ACO Podcast
The official podcast of the American Cornhole Organization. Click here for the most recent episode, or Subscribe on iTunes
LATEST EPISODE
Not an American Cornhole Organization Member?
ACO Shop
Buy your Cornhole Boards, Bags and Gear
 The ACO continues to lead the fastest growing sports industry in America. Milford, Ohio- July 17, 2018 - Since the first American Cornhole World Championships held in 2005, there have…