https://www.youtube.com/watch?v=5J7j0Vwug6I
Welcome to the family!
So you've joined the ACO… What's next?
The American Cornhole Organization is recognized as the governing body for the sport of cornhole. As we progress, the American Cornhole team is dedicated to enhancing your experience as a player.
We're here to help you navigate your journey from joining the ACO… to World Champion!
We've broken this page into two sections:

Next Steps

and the 

Learning Center

.
If you don't already have a Scoreholio account, you need to create one using the same email address that you used when you purchased your ACO Membership. If you do already have a Scoreholio account, and you used the same email address when you purchased your ACO Membership, then you're good to go. Since ACO uses Scoreholio for all ranking and scoring, your email needs to match across both Scoreholio and ACO. Got it?
Setting up your account is done from the app only.

DOWNLOAD THE SCOREHOLIO APP HERE:
Apple
Android
Here's an overview on setting up your account.
Then, click the "Scoreholio 101" banner on the app to learn the basics of using Scoreholio.
HEAD OVER TO THE ACO PLAYERS SITE
The ACO Players Site has everything you need to play competitive or PRO cornhole in the ACO.
Find Tournaments and Buy Tickets
Directory of ACO Players and other Resources
ACO Rankings & Top Players
Tournament Results & Champions
CornholePlayers.com
The ACO Players Guide is updated every Season. It's the go-to document for everything you need to know about playing this Season. Here, you can also find Official ACO Cornhole Rules.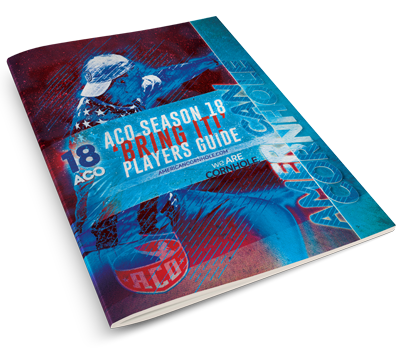 Download the Players Guide
FIND YOUR LOCAL CORNHOLE CLUB
ACO Cornhole Certified Officials are avid cornhole players that set up local cornhole clubs with fun tournaments. Search for a club in your area and hang out with other ACO players!
Find Your Local Club
REGISTER FOR ACO TOURNAMENTS
Find local ACO Tournaments, ACO Majors (which are points-earning) and other fun ACO events. Register to compete in any Division you want – each has a different entry fee. Divisions include: Singles, Doubles, Coed Doubles, Womens, Seniors and Juniors. See below for requirement details and entry fees for each.
Also – See the section below about what to expect at your first ACO Major – where to go and what to do!
Find ACO Tournaments & Events
ACO Tournaments and Divisions
Improving, Earning Points and Getting World Ranked
3 Days at ACO Worlds 17, 2022
Branson, Missouri

ACO Owensboro Major, Season 18
Owensboro, Kentucky
ACO Charleston Major, Season 18
Charleston, West Virginia
ACO PCB Major, Season 18
Panama City Beach, Florida

ACO Festival at the Field of Dreams
Dyersville, Iowa
ACO Pro Series Shootout, Match #4
Branson, Missouri
ACO: We Are Cornhole.
A History of American Cornhole Organization and the development of the sport
ACO Worlds 15 Promo
Las Vegas, Nevada
ESPN Sportscience
How to Throw a Bag
Hole Nation
Rich Challenges Stacey O'Bryan to a "Size Matters" challenge
The TACO Clip of the Week
"Brotherhood of Bags"
Welcome to the Sport of Cornhole.
As the Official Governing Body of the sport of cornhole since 2005, ACO is dedicated to providing programs and services to set cornhole standards, ensure its integrity, preserve its future and enhance the cornhole experience. Enjoy ACO's valuable benefits and support the sport you love by becoming an ACO member. Game on!