Remembering our ACO Players and Family
KEEP ON PITCHIN'!
Chu Farfsing
February 4 2008
Pioneering ACO-PRO Chu Farfsing's legacy lives on through the ACO Farfsing Cup, awarded to the Crew Cup champions each year at the ACO World Championships of Cornhole.
Cortez "Tez" Hudson
November 24, 2016
Cortez "Tez" was a loving father and an active ACO Player. As an ACO PRO, he won Doubles at ACO Worlds 9. Tez passed away at 37 years old. Tez rests at Vine Street Hill Cemetery, Cincinnati, OH.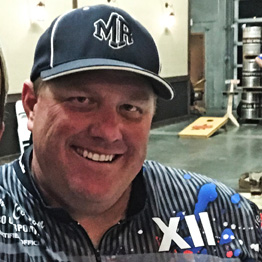 Damon Cochran
June 12, 2018
Damon was called many things by many people… Dad, Husband, Son, Brother, Coach, but most of us knew him as a friend. He was an avid supporter of the game and was always doing what he could to grow it. He was known for his boisterous Final's introductions and his infamous Finals tunnels. Not only was Damon a huge supporter of the ACO as a Certified Official, but he was a huge supporter of every Las Vegas Cornhole Player. His support over the years is what lead Las Vegas Cornhole to be what it is today.
Gary "Big Gernie" Wayne Alger
July 19, 2020
Gary lived every day to the fullest. He enjoyed and loved playing cornhole and being with all his friends and family. He was always the life of the party, never a dull moment. Gary was an ACO Member for many years and he was one of the first players to play with the Shenandoah Valley Cornhole (SVC) from the time they began til the day he left. Gary loved to travel and he attended many ACO World Championships. Gary was a phenomenal player, he won the ACO Senior VA State Title and always finished close to the top in everything he played in. He will always be remembered and remain in our hearts forever.
Christopher Scott Bolton
January 10, 2021
Aka "BOLTDOG", played with the ACO since season 1 alongside Ryan Labelle. Boltdog never met a stranger and was one of the best coaches in the game. His legacy will forever live on in the cornhole world and beyond.
Ronnie Wray
December 27, 2021
Ronnie was an Air Force Veteran and an active ACO player from the Shenandoah Valley Cornhole (SVC) club in Virginia who loved the sport of cornhole.
Keith Duke
August 7, 2022
Keith was a father, husband and active ACO player from Arkansas who loved playing cornhole with his son, Justin Duke. Keith was a proud co-founder and member of 870 Cornhole Nation in Paragould. He passed away at the early age of 53 years old.
Mike Schaffer, Sr.
November 17, 2022
ACO-Pro Mike Schaffer won ACO Senior Player of the Season for Seasons 13 and 14, and has won countless tournaments big and small. He would travel to almost every Major, with the "ACO Road Dog" Award being named after him. He is the only player to remain with the ACO since its inception earning him the title, "The Legend."